Gallery - Milton Olsson Season of Memories 2009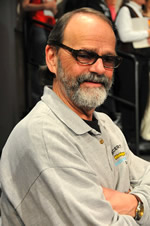 Visual and Performing Arts honored Milton Olsson, professor of music, at a retirement social at the end of Spring Semester 2009. In addition to organizing and conducting Michigan Tech's choirs, Olsson has been music director of the Keweenaw Symphony for many years.
Olsson joined the faculty in the Department of Humanities in 1976 and became the first chair of the Department of Fine Arts when it was formed in 1993, a position he held until 2006.
Click images below to enlarge.

Retirement Social, Rozsa Lobby, April 29, 2009
He has helped to sustain and enlarge the tradition of both instrumental and choral music for the Western UP and for Michigan Tech's students.
During his tenure at Tech, the Concert Choir grew from fewer than 20 members to almost 100, and it has toured on four continents. Olsson will lead the choir on one more tour in Argentina and Chile for two weeks in August.
He was instrumental in planning and raising financial support for Michigan Tech's performing arts center—a dream realized when the Rozsa Center opened in 2001.
In addition to his work as teacher, conductor, and leader, he is an accomplished composer of both choral and orchestral music, a board member and past president of the American Choral Directors Association of Michigan, and a sought-after choral adjudicator for high school music festivals throughout the state.
Related Galleries
News
Director says goodbye (VIDEO)
WLUC TV6 News, April 17, 2009
Tech Orchestra, Choir director retires
WLUC TV6 News, April 17, 2009
Milt Olsson, Tech's Music Man, Will Be Honored
Tech Today, April 17, 2009
KSO, Concert Choir Join for "Season of Memories" Finale Saturday
Tech Today, April 14, 2009
Mr. Olsson's Opus
Mining Gazette, March 6, 2009
Images © 2009 Department of Visual and Performing Arts, Michigan Technological University. All rights reserved.